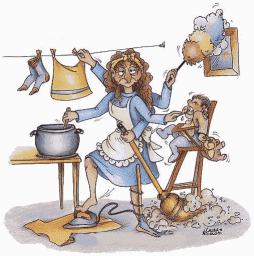 Good Morning! (or good night, depending on when you are actually getting a half a second to read this!) I thought I would start today by telling you about
my
personal cleaning list.
I was having such a hard time, after we moved into our new house, just figuring out how to clean the darn thing, that most days I just sat and watched the dirt pile higher and higher!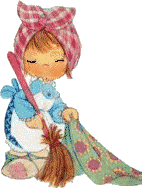 Then, one day I had had enough! So I got online, started doing research, and took notes in my OneNote (my brain!)
What I ended up with was a cleaning list that got separated down by day, week, month, twice a year, and once a year. Then, on a day to day basis, first thing in the morning (cause that is when I can do my best cleaning), I pull out my list and start with the daily stuff. If I have time during the week then, I move on to weekly things, then monthly things, etc.
Once I got the routine down of just "Yes, I will do the daily things today", it started getting easier! It also helps me a lot when I feel like I am not accomplishing anything but going around in circles. (Did you ever feel like that?)
At those moments, I stop, pull out my list, and either check off what is already complete, or note beside what is currently in progress (i.e. laundry, dishwasher, etc.). Then, I can really SEE how much I have accomplished already, and it gives me another breath of energy to do the rest!
Now, granted, I do have those days when nothing at all gets done (either because of family emergencies, sickness...or just plain TOO TIRED in general!) But, I have learned not to beat myself up about it! I figured out this much: The dirt/clutter/mess/laundry/dishes will be there the next day if I don't get to them today, so there is no real rush! I mean, really, they are not going anywhere...I have yet to see the Magic Cleaning Fairies

come in and do it for me (have you?)....and if they did I certainly wouldn't cry over it, would you?? LOL
Now, I have been talking a lot about this list, so I thought I'd share mine with you. If you have one of your own, please feel free to post it here with mine! Maybe together we can finally defeat the dirt!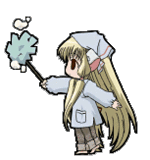 My Daily Cleaning/To Do List
(in order of doing)

Breakfast
Everybody brush their teeth!
Load dishwasher
Clean off counters/stove/wipe down fridge/microwave, etc.
Clean kitchen table/high chair
Feed cat
Baths
Clean up clutter (all thru the house...mainly looking for laundry here!)
Start Laundry
Sweep (this could be whole house, or just the areas of low traffic...most of the time..it is areas of low traffic, so I don't have to go back and do twice!)
Break---sit down a rest g/f....you've had a hard morning!

(Here the rest of the time is where I work/homeschool)

Lunch
(This doesnt' usually generate a lot of dishes, so most of those go to the sink, to wait for tonight)
Everybody brush their teeth again! (yes, I am a real stickler on the toothbrushing thing, but sometimes we don't get to the mid-day brushing)

Run errands

Dinner
Everybody brush teeth
Unload dishwasher/reload
Put up clean dishes
Wipe down counters/stove/sink/fridge/table/high chair
Pick up clutter (toys, clothes, etc.)
Sweep (High traffic areas)
Put kids to bed

Whew!! I'm done!! Time for Mommy to rest and relax!

Now, I know this might sound like a lot, but if I really get on it, I can have morning finished in about 1 to 1/2 hours. Then night chores (after dinner) will take about 15-30 minutes, especially if everybody else pitches in to help (which they mostly do around here!)

I'll post my other lists tomorrow.

Meantime, I would love to hear about your daily routine!


Come visit me on Ebay or Etsy!
Powered by CafeMom Toolbar - Get yours today!